The mid-November issue of the PRP community newsletter was just emailed to 1,009 PRP patients/caregivers. If you didn't receive an email from me, then (1) you either don't have your email address listed in the PRP Community Database, (2) or the email address we have is undeliverable, or the newsletter ended up in "junk mail".
Please click SUBSCRIBE and receive your copy of On The Road…Our Journey from Onset to Remission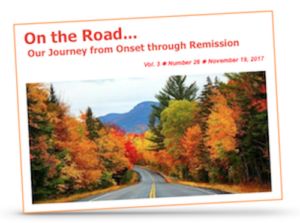 As a matter of policy, your email address will NOT be shared with any third parties AND you can unsubscribe at anytime. Remember, we're family.
otr26 Mid-November Issue of On the Road... available