---

---
Editor's Note:
I know that posting the cartoons shared by members of the PRP Global Community probably violates a copyright laws somewhere, but sometimes a good chuckle is worth getting a cease and desist order. Can't be any worse that the phone call I received from Dr. Golden's nurse on November 28, 2012 confirming my diagnosis: pityriasis rubra pilaris.
Please sends cartoon your feel are uniquely appropriate for those dealing with PRP and the daily challenges of body, mind, and spirit.
---
Posted by Tammy O — Clear Lake, Iowa (April 18, 2019)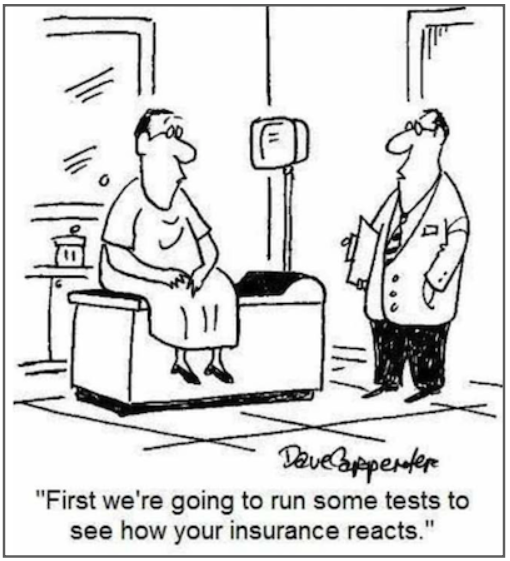 "First we're going to run some tests
to see how your insurance reacts."
---
Posted by Murray R — Surrey, British Columbia, Canada (April 18, 2019)

"And that one's for the relief of anxiety
caused by the high cost of medication."
---
POSTED BY MURRAY R — SURREY, BRITISH COLUMBIA, CANADA (APRIL 18, 2019)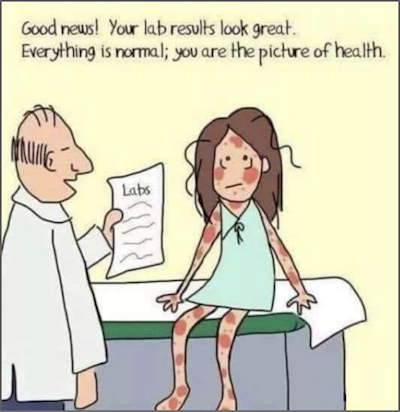 Good news! Your lab results look great.
Everything is normal; you are the picture of health.
---
SHARED BY MURRAY R — SURREY, BRITISH COLUMBIA, CANADA (July 11, 2019)